Last time, we posted a digital presence checklist for business operators to review as they are grappling with growth goals and plans for 2023. Upon reflection our editor pointed out great customer service is an important factor for capturing and retaining new clients. Clearly at that moment of truth when a prospective client is making a purchase decision, whether in a retail store, ordering food from a restaurant or making a purchase online, good customer service can be a deciding factor. Also, the purchase experience including customer service will be a factor as to whether that customer will buy again.
We believe that in this complex impersonal tech world it is ever more important to be human. Therefore, respond quickly, seek to understand, respond empathetically and do your best to solve their problem or pain point. Show gratitude.
As business owners we all deal formally or informally with customer service daily. Naturally it is now more complex because of all the communication channels available to the customer. Interaction takes place in person, on the phone, via chat bot, via text, via email, via social media (now with direct social commerce), via review sites, and through third parties like Amazon, Door Dash, Instacart.

Because of this communication complexity I decided to do some research about best practices in customer service across all industries. I found a surprising lack of consensus. Then I thought back on my own customer service experiences during the last few weeks. Two stood out because they were substandard. More to the point they both impacted the transaction in the moment as well as my decision whether I will spend money with that business again. These were common transactions and the negative customer service element had little or nothing to do with anything on either of the best practices lists above. Briefly they were:
1. One Friday night I ordered a fairly pricey take-out meal from a popular restaurant with two locations in my area. I was careful to place the order with the location near my home. Yet, the third-party service that the restaurant's take out order linked to inadvertently redirected my order to the far away location. I unknowingly completed the transaction with a credit card and discovered the mistake immediately when I received the order confirmation. I called the restaurant immediately and simply wanted them to correct the error so that I could pick up the order near my home. Instead, the manager explained that there was nothing that could be done until Monday. It was Friday night. Obviously, that was no solution to the problem. He didn't address the problem at all, but they did have my money. My choice was to drive 30 minutes through traffic or cancel and argue for a refund on Monday.
2. Yesterday I used a self-service interface to order an ad campaign for the first time with a large media company. In the middle of the order process their campaign builder was supposed to digest the information about the campaign that I had labored to input multiple times and give me three options to select from prior to completing the transaction which included payment upfront. On each of three attempts the builder crashed and never completed the transaction. Their customer service is managed through a chat bot. Here is the message that I received in their chat window during regular business hours during the day: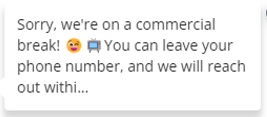 The above experiences have forced me to think of a time when I received excellent customer service.
1. Some time ago a group of our friends were taking a travel trip and I ordered an old fashioned coffee percolator through Amazon. Of course I waited longer than I should have. I placed the order with little time to spare. The Amazon package arrived the next day and I was very pleased until I opened the box. The percolator had somehow been packed without the lid. I did not have time to send it back, have the return processed and wait for Amazon to send the corrected product. I reluctantly called Amazon customer service thinking that I would be waiting on hold for a long time or get caught in an automated phone tree. Surprisingly, a human came on the phone immediately, understood and empathized with my problem. This person explained that they could ship a replacement which would arrive the next morning and when I returned from our trip and had more time, I could return the lidless percolator. The next morning the percolator with lid arrived. I was very happy because Amazon completely exceeded my expectations in solving a problem.
2. I had a recent plumbing problem over the holidays. I called two plumbers in an online search result and got their voicemail. The third service answered the phone on the first ring, was equipped to dispatch and service truck within two hours. The service truck arrived in 45 minutes and fixed the problem promptly. Needless to say this contrast in simply answering the phone made me very happy with the third service.
In conclusion my top customer service best practices are:
1. Answer the inquiry quickly.
2. Listen intently and actively
2. Answer the inquiry empathetically.
3. Be friendly.
4. Put yourself in the client shoes and do your best to solve the problem within the reasonable bounds of policy and procedure.
5. Thank the client for their business or the prospect for their inquiry. Exude gratitude.